Initiatives to Improve Human Capital
We believe that a company cannot succeed in business unless it takes care of its employees.
In order to realize our Purpose, we are working toward becoming a company where each and every employee can shine in their own way.
Motivating Work Environments and Corporate Culture
Pigeon defines corporate value as the sum of social value and economic value. To bring the world high-quality products, employees must be in an environment that motivates them to work. We continue to refine our working environment by enriching our systems and encouraging new ways of thinking in employees, and actively promote work environments and corporate culture that are easy for all employees to work in.
Pigeon's Workstyle Reform Slogan:
"Smart & Smile! Work"
Work smartly during assigned hours and smile frequently during time off
Training Professional and Managerial Human Resources
Pigeon gives all employees opportunities to participate in technology development, education, and practical training. We stopped setting gender diff erences in job types and career courses before the enactment of the Equal Employment Opportunity Law. At our overseas bases, the employee turnover rate has remained low thanks to our early implementation of career advancement systems.
Every six years, we run a two-year training course for selected next-generation managerial human resources. To ensure the continuous growth of the Group, we work to cultivate next-generation managerial personnel as "Human qualities that can enhance resourcefulness and continuously increase the Company's corporate value based on the values of the Pigeon Way." In 2020, we launched the Pigeon AMC (Accelerate My Career)
Program at Pigeon's headquarters. This is an open recruitment program to help people shape their own careers and experiences. In addition to internal recruitment, internal internship, and internal pro bono work (short-term work support in other departments), the program includes external volunteer leave and an external residency program that allows employees to work at another company for three months to gain new experiences and skills. In fi scal 2020, the fi rst year of the program, two employees took advantage of the external residency program to work at venture companies. In January 2021, meanwhile, we shifted to a new personnel system that clarifies the roles of individual employees by setting up positions according to their career aspirations and aptitudes and eliminating age, seniority, and other factors, so that each employee can become a professional with deep expertise.

Embracing Diversity
One of our Corporate Ethics Policies is that "Pigeon shall respect its employees' human rights and personalities at all times, ensuring them discrimination-free, equal job opportunities and rewarding work environments, and offering them fair merit ratings to help their self-fulfillment." We respect, welcome, and utilize the fundamental differences in our employees' backgrounds—in such areas as gender, nationality, age, and employment status—in order to address ever-changing business conditions and diversifying customer needs.
In December 2018, we received the Forbes Japan Women Award 2018 & 2021 for our training and other initiatives to promote diversity. We respect the civil and political rights of employees—including freedom of expression, association, and religion—and engage in dialog with them about these rights. Regarding labor, our Compliance Committee spearheads rigorous compliance-oriented activities to ensure respect for workers' and human rights both in Japan and overseas.
Supporting the Advancement of Women
Pigeon considers the creation of environments in which female employees can play an even more active role to be a particularly important issue. With this in mind, we formulated our Three-Year Action Plan for Promoting Advancement of Women. The plan has three pillars: "Expand support systems for balancing work and family life," "Raise awareness in the workplace," and "Provide support for women's feelings and skills." In these ways, we continue to enhance our systems and support the mindsets of our employees. We also focus on training for female management prospects. In the fiscal period ended December 2021, women accounted or 23.9% of Head Office management and 42.7% of overall Pigeon Group management.
Three-Year Action Plan for Promoting Advancement of Women (February 2020 to December 2022)
Increase the number of men using the work-family balance support system (for child care leave and leave for school events) to 20 or more
Increase awareness about work-family balance support regardless of gender
Grasp and improve the status and outcomes of the work-from-home system
Establish frameworks enabling women to give birth, raise children, and return to work with peace of mind
Female Manager Ratio
Work-Life Balance
In addition to complying with domestic regulations on worker protection and work hours established by legislation and labor agreements, we are implementing measures to promote work-life balance and labor productivity. These include establishing a rule to leave the workplace by 7:00 p.m. and setting one day per week as a "Dash Home on Time" Day. We also introduced teleworking in April 2019. As a company involved in child-rearing, we are expanding our employee support systems for parenting and focusing on helping employees return to the workplace quickly after childbirth, with programs that include One Month Together (parental leave for male employees), Women's Early-Reinstatement Support System, and Financial Assistance System for Parents with Children on Waiting Lists. At Pigeon, we have created workplace environments where anyone can take childcare and nursing care leave as a matter of course. We are also working to develop employees who can talk about their childcare experiences, and we refl ect their feedback in our product development and other operations.

Utilization of systems supporting child-care and work-life balance.
System
Details
Usage status
One Month Together
1-month parental leave system for male employees
Uptake rate: 100%
(100% consistently since FY Jan. 2016)

Users: 59 persons
(cumulative over 7 years since FY Jan. 2016)
Leave the workplace (go home)
by 7:00 p.m rule
Rule to leave the workplace by 7:00 p.m. in principle, even when doing overtime

Average overtime per month: 8.3 hours (FY Dec. 2021)

"Dash Home on Time" Day

Promoting early return home by designating every Wednesday as a day for leaving the office at the regular time
Life Design Leave and Temporary
Retirement
System enabling up to 2 years of leave or temporary retirement for fertility treatment and adoption processes
Provided in 2015, 2016, and 2017, 2019, 2020 and 2021
Telework
System available to all employees to
work at home or at a satellite office
System implemented in
April 2019
| | |
| --- | --- |
| Paid Leave Usage Rate - Pigeon Corporation - | Records of male participation on "One Month Together" parental leave system |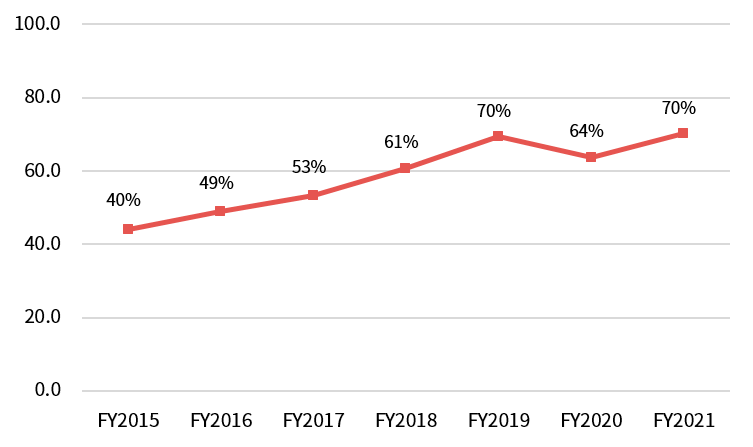 Paid Leave Usage Rate - Pigeon Corporation -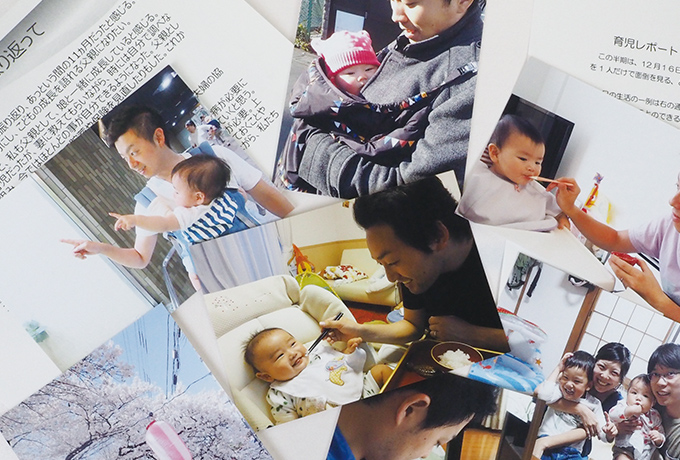 Records of male participation on "One Month Together" parental leave system
Employee-created childcare system project   
In 2021, 28 employees who are raising children participated in a project to create new childcare systems that reflects the real voices of employees. The new childcare system, which utilizes the ideas proposed in the project, has been in operation since March 2022. For example, The "First-Time Together Leave" allows a spouse to take up to 10 days of leave before and after childbirth, and the period during which shorter working hours for childcare can be taken has been extended from "up to the first grade of elementary school" to "up to the fourth grade of elementary school," etc. The system has enabled us to create an environment that flexibly responds to the diverse lifestyles of our employees.
We believe that it is our mission to create a social environment in which employees can easily balance work and childcare by promoting the design of systems and the creation of a corporate culture.
Establishing and Supporting Lactation Lounges in Japan      
We have set up breastfeeding/pumping rooms called Lactation Lounges at Head Offi ce with the aims of creating comfortable working environments for employees with small babies and contributing to local communities. In addition to employees, the rooms are available for use by mothers working in the vicinity, as well as mothers and babies living nearby.
Head Quarter
Address: 4-4, Nihonbashi-Hisamatsucho, Chuo-ku, Tokyo 103-8480, Japan
Phone: +81-3-3661-4200
Fax: +81-3-3661-4320
Opening hours: 9:00-17:00
* Not available from June 25 to September 1, 2020 because of renewal.
Central Laboratory
Address: 6-20-4, Kinunodai-Tsukuba Miraishi, Ibaraki 300-2495, Japan
Phone: 0297-52-6531
Fax: 0297-52-6533
Opening hours: 9:00-17:00

Platinum Kurumin Certification in Recognition of Superior Support for Childcare and Good Work-Life Balance
Pigeon Corporation has earned recognition for these efforts. Since 2018, the Company was further granted Platinum Kurumin certification, which is awarded to certified Kurumin recipients that are highly evaluated for their achievements in introducing systems that support work-life balance and promoting their use, as well as for the superior level of their effort, for their employees. The Kurumin logo is awarded to companies by the Ministry of Health, Labour and Welfare (MHLW) for satisfying certain criteria, such as measures to counteract Japan's low birthrate and to support child-rearing in the work environment.
Worker Health and Safety
The Pigeon Group is meticulous about managing the health and safety of its workers. All Group factories in Japan and overseas are scrupulously managed in accordance with the Pigeon Group's workplace health and safety standards and the laws and regulations of each country. Recognizing the need for especially thorough occupational safety management, the Group has introduced ISO 45001 (OHSAS 18001), an occupational health and safety standard that is widely adopted internationally, and has obtained 100% certification under this standard at all of its production sites. In 2020, a total of 2,491 Pigeon Group employees have undergone training and education in occupational safety standards in accordance with this management system.
Pigeon Group Companies with Certification under ISO 45001 (OHSAS 18001)
| Company/facility | Location |
| --- | --- |
| Pigeon Home Products Corporation | Shizuoka Prefecture, Japan |
| Pigeon Manufacturing Hyogo Corporation | Hyogo Prefecture, Japan |
| Pigeon Manufacturing Ibaraki Corporation | Ibaraki Prefecture, Japan |
| Pigeon Manufacturing (Shanghai) Co., Ltd. | China |
| Pigeon Industries (Changzhou) Co., Ltd. | China |
| Pigeon India Pvt. Ltd. | India |
| Pigeon Industries (Thailand) Co., Ltd. | Thailand |
| Thai Pigeon Co., Ltd. | Thailand |
| PT PIGEON INDONESIA | Indonesia |
| Lansinoh Laboratories Medical Devices Design Industry and Commerce Ltd. Co. | Turkey |