Our actions to make this world more baby-friendly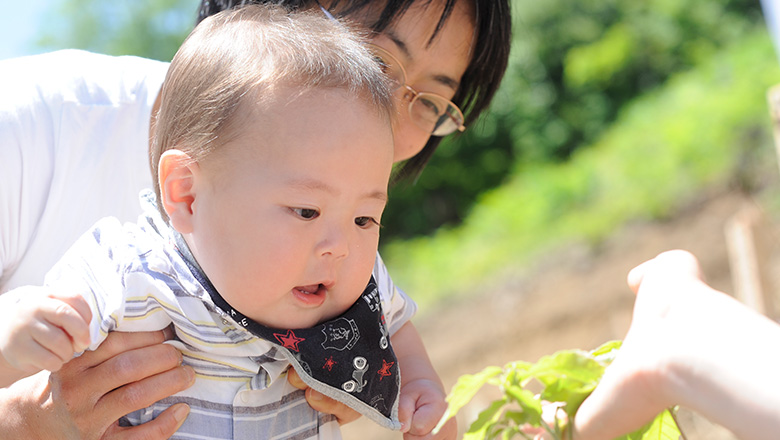 Commemorating the Birth of Newborn Babies
Babies and trees both need warm, loving surroundings to grow up healthy and strong. Under the slogan "Raising Children, Raising Trees: The Spirit Is the Same," Pigeon has held annual tree-planting drives since 1986, encouraging parents of babies born that year to plant a tree commemorating the birth. Throughout the 34 years since the first campaign in 1986, we have celebrated over 180,000 babies' births with their families.
Pigeon Miwa no Mori
For the past 34 years, we have organized an annual planting drive in both the national forest in Hitachi-Omiya City, Ibaraki Prefecture and a privately owned site called Pigeon Miwa no Mori, adding 3,500 to 5,000 trees to the area each year. Today, Miwa no Mori is home to a forest of over 150,000 oaks, chestnut oaks, and other broadleaf trees. It has also become a home for animals, including frogs, loaches, and mayflies. In June and July, swarms of fireflies can also be seen. Through this initiative, we are creating a forest that will remain into our children's future.
Sukusuku House
Miwa no Mori contains a log house called "Sukusuku House" (sukusuku is a Japanese word meaning "grow up healthy") where any visitor to the forest is welcome to rest, visit the bathroom, or change diapers.
Sukusuku House also contains a chronicle of the tree-planting initiative's history. The records include babies' names and messages from their mothers and fathers. Visitors are free to browse through these to recall their own planting activities years earlier.
Tree-Planting Ceremony
Every May, one hundred families are selected by lot from among the applicants to participate in the Tree-Planting Ceremony.
At the ceremony, participating families can experience the natural world at Miwa no Mori and plant trees with their own hands together. There is also a play area where babies can have fun with their older brothers and sisters.
First Letter from the Forest
At the ceremony, families can make a print of their baby's hands or feet to create a unique wooden postcard. There is also a special postbox called "Woody" where these postcards can be mailed to grandparents or others.
Komauchi

: Hands-on shiitake cultivation

Miwa is a center for shiitake mushroom cultivation. Visitors to Miwa no Mori can try their hand at komauchi, the traditional method of inoculating wood with shiitake spores.
Making
washi

paper

Visitors can also try their hand at making the traditional Nishinouchi washi paper manufactured in Miwa. Washi paper is highly durable, so it is ideal for making prints of babies' feet.
Related SDGs
Related Link
Commemorating the Birth of Newborn Babies