Environment Activities
In addition to providing a multitude of environmentally friendly products, since 1986 Pigeon has held its annual Newborn Baby Commemorative Tree-Planting Campaign as part of broad-ranging initiatives to protect the global environment.
Develop environmentally friendly products
Basic Approach to Environmental Protection; Environmentally Friendly Products
The Pigeon Group is committed to preventing global warming and realizing a sustainable society. In addition to complying with relevant laws, such as the Energy Saving Act and Law Concerning the Promotion of Measures to Cope with Global Warming, we undertake Groupwide environmental initiatives, such as establishing energy-efficient systems. As a maker of daily commodities, the Group is committed to ensuring that its products do not have a bad effect on the global environment, not only while in use but also after they are discarded. To this end, we pay meticulous attention at each stage of manufacturing?including selection of raw materials and ingredients?and have created a lineup of numerous environmentally friendly products.
Microwavable Steamed Cupcake
With this product it's easy to make lightly-sweetened steamed bread at home, right in your microwave.
The cooking cup material has been changed, and it is now made of mostly corn starch.
The paper container is easy to break down and recycle after use.
Foam Body Soap Refill
800 ml refill pack for whole body soap, enough to refill the bottle twice.
This whole body foam soap contains moisturizing ingredients and is similar to the vernix caseosa, the creamy substance on newborn babies' skin. It cleans without stripping moisture and sebum.
The paper container is easy to break down and recycle after use.
Absorbent Diaper Liner
Our absorbent diaper liner, sold as a set with our pants-style disposable diaper, allows the number of diapers used to be reduced by around half, which helps cut garbage volume. We developed the liner in response to feedback from consumers who felt that pants-style disposable diapers are convenient for babies who are crawling and standing up, but the price is too high. Accordingly, we created a product that is both economical and environmentally friendly.
Liquid Cleanser for Nursing Bottles and Vegetables
Thirty years ago, we developed a liquid cleanser for nursing bottles and vegetables made 100% of plant-derived ingredients. This is a highly safe detergent made especially for babies with weak resistance, and being plant-derived, it is also gentle on the mother's hands. It has been consistent long-seller since its launch.
Climate Change Mitigation, Biodiversity
The Pigeon Group gives full consideration to climate change mitigation and biodiversity. To this end, we have specified the volume of our greenhouse gas emissions, both direct and indirect, and we are working to save electricity. We have also established a consistent method for calculating reductions in greenhouse gas emission volumes at all of our production facilities, and strengthened our management systems. At our Chinese production facilities, though on a small scale, we are working to maximize solar and wind power generation under the theme of "environmentally friendly factories," and we are promoting all-LED lighting to save electricity.
CO2 Emissions by Pigeon Group Domestic and Chinese Production Companies
3 domestic production companies
(Pigeon Home Products Corporation, PHP Hyogo Corporation, PHP Ibaraki Corporation)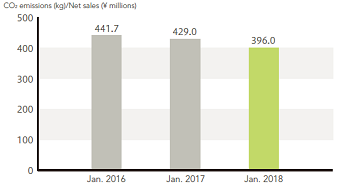 2 Chinese production companies
(Pigeon Manufacturing (Shanghai) Co., Ltd., Pigeon Industries (Changzhou) Co., Ltd.)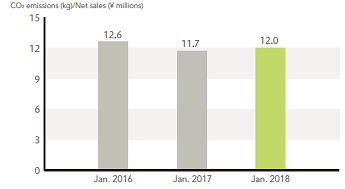 Promote CSR-Oriented Procurement
Polyphenylsulfone (PPSU), a plastic used as rawmaterial in nursing bottles
Pigeon is committed to the sustainable use of resources. Among chemically derived materials that we handle, we use rubber as the raw material for our nursing bottle nipples. Here, we do not use any natural rubber, but rather silicon and silica gel.
Raw Materials Procurement Volume
FY2018
Pigeon
Manufacturing
(Shanghai) Co., Ltd.
Thai Pigeon Co., Ltd.
PIGEON INDIA PVT. LTD.
PT PIGEON INDONESIA
Silicon (tons)
516
420
32
368
PPSU (tons)
189
208
-
-
Pollution Prevention
Since practically all of our end-users are babies, we are very stringent and cautious when selecting raw materials and ingredients to ensure that they are based upon food additives that have no impact on the human body. For our body soaps and other liquids and detergents, we strive to prevent pollution by identifying sources of pollution and waste related to our production activities while working to reduce the volume of waste and minimize the operation time of our waste incinerators.
Protect the global environment(Environmental Opportunities)
Pigeon Miwa no Mori" site

Newborn Baby Commemorative Tree-Planting Campaign
For the past 32 years, we have continuously held our annual Newborn Baby Commemorative Tree-Planting Campaign, which began in 1986. This campaign is held at the "Pigeon Miwa no Mori" site, a combination of national forest and Pigeon-owned land near Hitachi-Omiya City, Ibaraki Prefecture. In addition to providing parents with memories of their babies' birth, the campaign contributes in a small way to educational awareness about environmental protection. Forests help prevent global warming by absorbing carbon dioxide and also help preserve biodiversity. In addition, they play a role in preventing floods and erosion while preserving high water quality, to the extent that they are referred to as "green dams." Over the past 32 years, we have planted more than 140,000 seedlings on 44.15 hectares of land (both national forest and private land). In the national forest portion, covering 25.37 hectares, the "green dam" benefits equateto storage and purification of 5.71 million two-liter PET bottles.